Translink Corporate Finance is delighted to have acted as lead advisor to chemical solutions provider Airedale Group on its acquisition of McCann Chemicals, as part of its strategy for growth and diversification.
The acquisition includes subsidiary companies Hunter Chemicals and McCann Food and Nutrition and is Airedale's third acquisition since 2015. McCann Chemicals will operate as an independent brand within Airedale's specialist distribution division and opens up new products, notably in the food ingredients space as well as a number of other synergies for the combined group.
Andy Haigh and Declan Savage from Translink Corporate Finance acted as lead advisors, providing price, structuring and negotiation advice as well as leading the multi-disciplinary advisory team. They were supported by due diligence specialists Martin Athey and Charlotte Ellerby, SPA advisory specialist Emma Oakley and by BHP Transaction Tax advisors Fletcher Adamowicz and Emily Caine.
This is the first transaction completed under the banner of the newly rebranded Translink Corporate Finance UK and Ireland.
Andy Haigh, Partner at Translink Corporate Finance, said: "It's been a pleasure to work with the Airedale Group on the acquisition of McCann Chemicals. The growth plan Airedale's management team has for the business is ambitious, including both organic growth and M&A. McCann fits neatly into this strategy and the acquisition will deliver many synergies for the combined business."
"We are delighted to be working with the fantastic management team of Airedale Group to help them deliver their ambitious growth plans. We have reviewed a number of possible acquisition opportunities with them and continue to do so."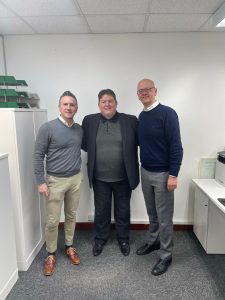 McCann's portfolio of organic and inorganic chemicals will complement Airedale Group's existing offering from its five divisions – Functional, Innovation, Food and Beverage, Metal Surface Treatment, Life Science and Surfactants – and support the Group's plans to strengthen its market position.
Craig Thomson, CFO of Airedale Group, said "We are pleased to announce the acquisition of McCann Chemicals and to have worked with Andy and the team at Translink Corporate Finance to facilitate this for us. The Translink team supported us along every step of the journey, providing invaluable advice and guidance at all times. They were pro-active and worked hand in glove with us such that they felt like an extension to Airedale's senior team. We are looking forward to working with them as we continue to execute our ambitious growth plans."
The announcement of this deal is a continuation of a remarkable run of successful deal completions for Translink Corporate Finance which have taken place in the first two months 2023. Despite some of the commentary around the economic headwinds, the deal pipeline remains strong and we look forward to bringing you further deal news in the coming months.